In February, four team members from Mercedes lll formed a Syndicate and purchased Mercedes lV. Since then they have been "fixing things", most of which were known to them from the survey, but once you start digging….
They have sought advice from Bernie Webber and Richard Blake on the rigging and hull, with the sail wardrobe "old but in good nick" not needing immediate attention.
Mercedes lV's bloodlines are true Classic:
Designer: Kaufman
Builder: Quilkey
Length: 41'11", beam 3.88 and draft 2.30 
Objective: Admirals Cup team 1975. Team members Love and War, Bumblebee lll and Mercedes lV. Finished 9th in a light winds dominated Admiral's Cup.
Sydney Hobarts: 15. 4th overall in 1974, 6th overall in 1984, and 3rd in her division in the well-remembered 1998 race, placing 13th overall.
Mercedes lV was at RYCV in the late seventies and Doug Shields raced on her. Historical records are scant but RYCV has her documented as winning the 1979 Cock of the Bay on line honours.
For the last ten-plus years she has mainly cruised from Pittwater. She participated in the 50th Anniversary Admiral's Cup Regatta in 2017, finishing 5th against stiff competition.
The Syndicate's immediate plans are to participate in our Classic fleet racing including the Cup Regatta, obtain an AMS rating, and race in the 2023 Cock of the Bay, joining previous winners from the Classic fleet Kingurra and Mercedes lll.
So, watch out for the grey-hulled yacht and if the winds are favourable for a spinnaker, "Big Red" will likely make an appearance.
Mercedes lV will tie up post Sunday's race at RMYS marina with Jane Williamson, John Miles, Ashley Sharples and Richard Stringer on board.
They look forward to introducing Mercedes IV to the fleet.
Martin Ryan
See Mercedes IV's history and results, including Admiral's Cup and Sydney Hobart racing.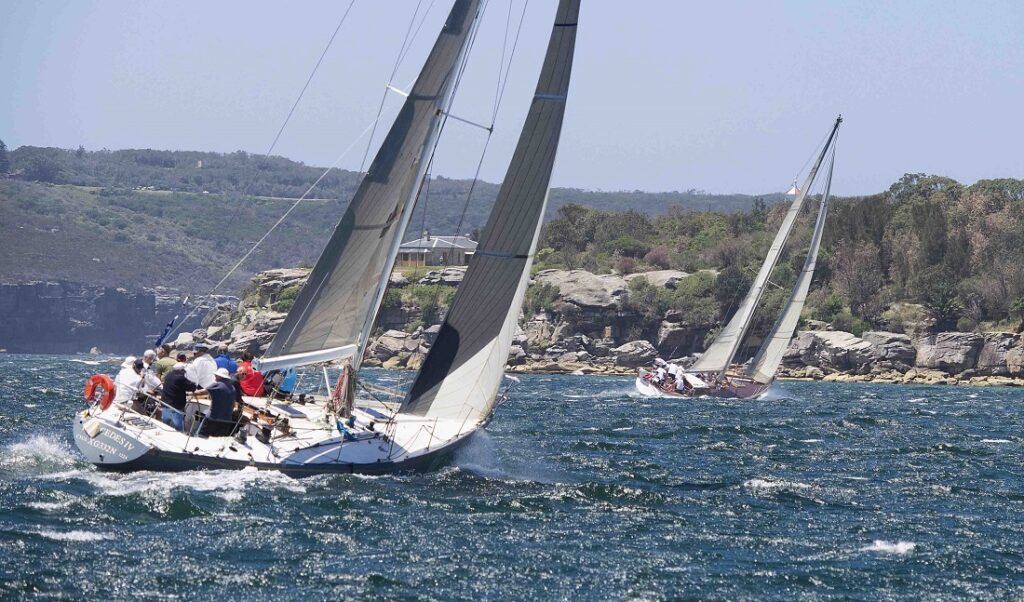 Mercedes IV, in the 50th Anniversary Admiral's Cup reunion on SYdney Harbour. This pic by Mike Thackray from the Sails Magazine article about that Regatta, "Performing Admirably". 
Side note:
CYAA member Tony Hoppe spent two seasons racing on Mercedes IV out of RYCV circa 1975 when it was owned by the Bram family.