Congratulations goes to our Port Phillip classic fleet who raced on Sunday.
Links to the results: Overall results; results by Division. 
It's congratulations time to Rob Pullin and his three crew from Hobsons Bay Yacht club classic yacht, the Griffin 32 Astrud. Apart from being named after that classic of all classics, Girl from Ipanema, Astrud Gilberto, Astrud cleaned up the trophy department in a big way during her days at Sydney's Royal Prince Alfred Yacht Club.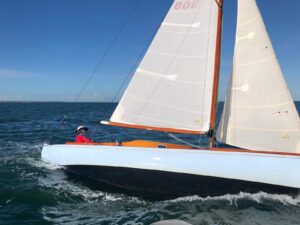 Congratulation goes to our first Tumlaren home in the form of Snow Goose. She sure presented herself as a formidable sight when she greeted the finish line judge on the race committee boat. The race committee voted Snow Goose the smartest looking classic of the day.
Our Laurent Giles Brittany Wanita, under the helm of Richard Gates. presented a fine sight as she lead the first division home.
To finish up on the awards the fastest boat on the course went to Kingurra.
A notable well done comment for the fine sight the single helmed Fair Winds presented to the fleet.
All up the Port Phillips classic fleet had another day of brilliant classic yacht racing. As the saying goes, it was a close run thing. With gale force winds in control on the Saturday most people would have quaked at the sight of the wind strength graph. Not so your classics people. A short term break in the Port Phillip weather conditions was detected so the decision to race was made. Out went the "race is on" SMS. Result!! Brilliant classic yacht racing in the berst of Port Phillip winter conditions.
Don't worry it's not all sweetness and light when it comes to classic yacht racing. The Pastime II headsail halyard tension person was last seen carrying a very heavy outboard engine as part of their next race training exercise.
Here's some Sydney classic yacht news from our very own Phillip Brown. Phillip tells us the Sydney Amateur fleet sends greetings to our Port Phillip fleet. Acrospire IV, now racing in Sydney cleaned up Sydney Amateur classic divisions 4th Winter race by taking out line and corrected time honours.
One other local item is a new listing on our Website classic yachts for sale. It's the Max Creese built Bill Luders Mistral IX. After taking concours d'Elegance honours at the 2020 Geelong Wooden Boat festival Mistral IX has fallen on hard times. Click through to the the SWS website for more details of the Mistral IX story.
All up another great day of Classic Yacht racing. Next classic yacht race on Port Phillip is 2nd July.
Regards to all
Peter Costolloe
CYAA (Vic) Handicapper
More pictures in Winter Racing – pictures from Race 3 and Race 4